Home Page ->> internal pneumatic line-up clamp
internal pneumatic line-up clamp
internal pneumatic line-up clamp manufactured by ourselves, all production processes are under control by our technical and production team, nonconformity components are never allowed to be reused on our machines, all defect items are quarantined in the wasted part stock
Related
"Internal Pneumatic Line-up Clamp"
Products
Adopt floating support wheel mechanism to avoid nose part lowing in
Check for detail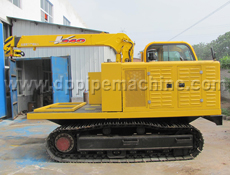 1. Patented design of rigid straight connecting of engine, generator and hydraulic pump 2. Patented design of hydraulic clutch system 3. MPF-H75 paywelder saving 75% energy consumption compared with MPS-H80 and MPS-H100 4. Our paywelder has 11.2% improvement in efficiency compared with simil...
Check for detail