Home Page ->> EXCAVATOR
EXCAVATOR
10T excavator chassis is equipped on pay welder to achieve better off-road performance and reliability. With full closed ship form chassis, residue and sludge build up is minimal, accordingly cleaning work become easier and simpler. We continue to design and manufacture new better Excavator's chassis to satisfy the need of our clients, welcome to our factory to find your favorite Excavators undercarriage.
Related
"EXCAVATOR"
Products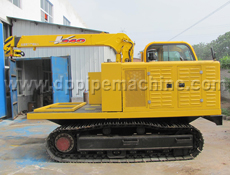 1. Patented design of rigid straight connecting of engine, generator and hydraulic pump 2. Patented design of hydraulic clutch system 3. MPF-H75 paywelder saving 75% energy consumption compared with MPS-H80 and MPS-H100 4. Our paywelder has 11.2% improvement in efficiency compared with simil...
Check for detail
It is mostly applicable for 28〞(711mm) and above pipe jointing operation. Features: large tightening force, equipped with 3-8 sets of sectional unfitness adjustment mechanisms, only workable for one single size pipe, high efficiency (no needs to do adjustment), matching accuracy: unfitness of but...
Check for detail
Pipe Fired Ring Heater are widely applied on steel pipe preheating prior to welding. To fuel with liquefied flammable gas, pipes are preheated by the flame from jet nozzles in uniform distribution around the ring, There are 6 symmetrical rollers on the flame heater, running along the preheated pipe,...
Check for detail